Ideology of Sound 10 years anniversary
2019-08-30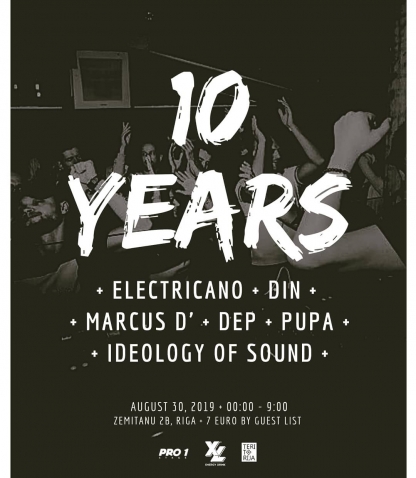 Ideology of Sound 10 gadu jubileju svinēs klubā Teritorija.
We, Mike Discoid, Hugo EL and Dmitry Dubrow, known as Ideology Of Sound have been playing together for over 10 years now!
It's been a true rollercoaster!
Performing countless Dj sets, organising and hosting many events, recording podcasts and releasing several tracks and remixes. All while working with many local and foreign artists and having brought much needed attention to electronic dance music in Latvia. We've had such a great time, that we want to share!
So, we've invited you to us SPECIAL day with SPECIAL atmosphere!
Music from us and friends:
+ Electricano +
https://soundcloud.com/electricano
+ D I N +
https://soundcloud.com/dinofficial
+ DEP +
https://www.mixcloud.com/KosmoRezidence
+ PUPA +
https://soundcloud.com/kdanilevics
+ Marcus D' +
https://soundcloud.com/marcus_d
+ Ideology Of Sound +
https://soundcloud.com/ideology-of-sound
DATE & PLACE
30. August, Teritorija
Entrance by club guest list - TERITORIJA GUEST LIST