[Ex] da Bass vieslekcija 2.decembrī.
2015-12-01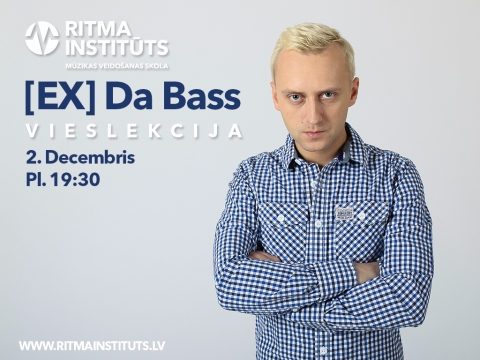 Laipni lūdzam uz [Ex] da Bass vieslekciju Ritma Institūtā 2.decembrī pl.19:30. Tikai Ritma Institūta absolventiem un studentiem. Piesakies uz e-pastu: info@ritmainstituts.lv
[Ex] da Bass – born as Mareks Dainis (1984) in a small city Cesis in Latvia; nothing but the word "big" comes in mind when speaking about the success of this self-confident and clinking attractive DJ with a very intense music style making an unmistakable impact and influence on the sound of the Electronic Dance Music scene in Baltic States. Before long (1997) he started with making the acquaintance to his now passionate lifestyle with playing at school parties and participation in different DJ contests, witch led him to have an early boost on his career, having his own electronic music show at "Progressive FM" in Cesis (2000 – 2004). Now you can see he's name all over the Baltic States; it's no surprise really, this happens for a reason. "You have to feel the crowd; either I am playing in the Baltics, Finland or "Loveparade" – you have to be "in" the crowd with every bit of yourself, not being overweening, giving the best of your experience to them on the dance floor", says Mareks. He adds: "I can switch from vinyls to cd's in a minute - your well-known DJ name is only half the battle. Making crowd at the specific venue feel this night very special is the point." His talent to pervade the crowd – sometimes revved to 136bpm – is obvious, keeping in mind the hectic results in storming the poll of "Latvian DJ Top": in 2006 [Ex] da Bass came in honorable 7th place; then came 2007 and 2008 where he got the 4th place; year 2009 – 2nd; 2010 & 2011 – [Ex] da Bass cracks the poll – No.1 in the country! Since 1 April 2004 [Ex] da Bass is working at "European Hit Radio" station's recording studio. Starting from the 1st of March 2006 hosts the radio show "Party Service", being over the airwaves of "European Hit Radio" every Friday and Saturday evening at 9 pm. It is a broadcast about significant and noticeable dance music events in Latvia, Baltic States and Europe in the most recognized nightclubs and popular entertaining places, as well as interviews with DJ's, producers, organizers and club managers. Mareks has received acclaim as a "Baltic Allen & Heath Mix Contest 2005" DJ competition (held in Lithuania; 80 participants) finalist. Also that year he performed in front of 30 000 people on the same stage with the father of electronic music – Westbam and Estonian best DJ's at electronic music festival "Freedom Parade". On 15th July 2006 he has made the greatest challenge of his career: he represented Baltic States together with "Baltic Groove Union" in one of the biggest electronic dance music events in the world – "Loveparade" in Berlin. In 2015 he performed at "Weekend Festival Baltic". Throughout his career, [Ex] da Bass has rocked all the biggest and most recognizable clubs and EDM festivals in the Baltic States; also played in night clubs in Finland, Germany, UAE etc. Playing alongside superstars like David Guetta from France, German heavyweights Westbam, Dr.Motte, Tomcraft, Cosmic Gate, Marc Van Linden, Scot Project, Moguai, Oliver Klitzing, Boris Alexander and DJ girl Lona; Dutch Ronald Van Gelderen, Pavo, Max B.Grant, and Ruben de Ronde; Cari Lekebush from Sweden; Finnish stars Orkidea, Sergei Shkuroff, Dallas Superstars; Tundavaag un Raaban from Norway; Patrick Hagenaar and Joe Le Groove from UK etc. has given him the insight needed to propel him in to his own limelight. It's easy to see how he has come to master mixing sounds and techniques to become one of Latvia's most notable electronic dance music exports; his discography contains 7 releases and several remixes. Here are the two most noticeable works: In 2009 [Ex] da Bass in collaboration with the new, perspective talent from England - Ian Brearley – released [Ex] da Bass & Ian Brearley – "Riga Nights" (remixes following short after) on Midway Records, well known in and outside Germany. Midway Records has released such artists as Marc Van Linden, Matys and Sandra Flyn. The most notable remixes are the Tomcraft Remix, made by world famous electro house DJ and producer Tomcraft from Germany in collaboration with Lutzenkirchen, and the Marc Van Linden Remix done by Marc Van Linden in Berlin representing Midway Records. It is worth mentioning that this is the first time when stars of such caliber are working with Latvia originated music. The success of the single has also fallen partially on the hands of our brethren – the Estonians. A wonderful version of the song has been produced by house music duo Rulers Of The Deep, but mood of trance is transpired by DJ Whirl. In 2010 a new single "No More Lonely Nights" (a cover version of legendary Paul McCartney's 1984 hit "No More Lonely Nights") was released both in CD Maxi as well as digital format. It was recorded in collaboration with renowned UK singer Rita Campbell. Her credits include successful collaborations with such masters of house music as the Freemasons, Stonebridge, Soul Seekerz and many others, and her records have been released by labels like "Sony BMG", "Ministry of Sound", "Hed Kandi" and "Universal Music"; also, she has worked as a background vocalist, both in studio and concert for Westlife, Rodger Taylor (Queen), Dave Gilmore (Pink Floyd) and The Brand New Heavies. A music video has also been filmed. This video, like the former [Ex] da Bass hit "Riga Nights", was directed by Sergey Prishvin from "Pervert Media Entertainment studio". And this is just a beginning...