Ritma Institūts piedāvā: DJ Svengali (Ghetto Blaster, Somija)
2010-05-12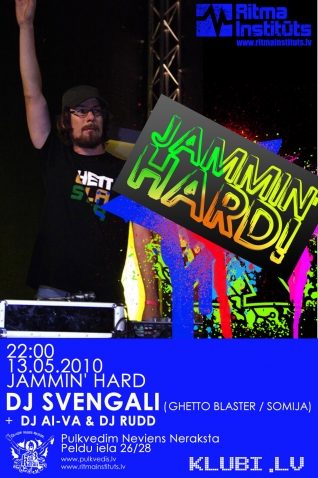 13.maijā, klubā "Pulkvedis" - Rīga
14.maijā, klubā "PMK" - Saldus
Svengali is a dj and producer. He spins a variety of rhythm music from dancehall through foundation reggae and ska to old school hiphop and all the way to crunk and hyphy, not forgetting the specially selected flavors of soul, electro, punk, funk, you name it. Allways something with a fat beat to dance to. He's been playing in Copenhagen, Stockholm and Latvia and in pretty much all the major cities and venues in Finland.
He hosts a weekly radio show Ghetto Blaster Show with DJ Ropeman at Basso Radio 102,8 Mhz in Helsinki region and on the internet at
http://www.basso.fi/bassostreami.m3u
.
As a club promoter Svengali has been organizing Ghetto Blaster Club since 2001 with DJ Ropeman. The club has been running in differrent top venues around Helsinki, including Rose Garden, Kuudes Linja and Alahuone. Ghetto Blaster was named in Top 3 of the clubs in Finland 2005 by the readers of Basso Magazine and the listeners of Basso Radio.
Currently Svengali is doing second album for reggae singer Nopsajalka , out early 2009 through Monsp Records. He's previous production includes Nopsajalka "Tontilla taas" (peak 32 in finnish top 40), Raappana 7" Sensimilla f. Paarma b/w Lintsari Anthem RMX, Nopsajalka 7"-"Ei voi pysäyttää" and Ghetto Blaster Sound vol 1. - compilation with all the top Finnish reggae artists on five riddims made by Svengali & Nopsajalka. The GBS vol 1. included Raappana song "Lintsari Anthem", voted as the best Finnish reggae song 2005.